Are You Ready to Go Green?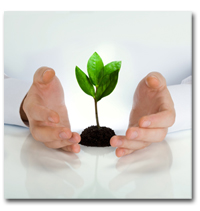 Green Cleaning
involves using green or environmentally preferred products and practices to clean your facility. Our green cleaning is much more than just using "green" cleaning products. We have developed a complete green cleaning system to help you maintain a healthy building.
Our GreenKeeping Practice
Our GreenOne cleaning program will provide whole-building green cleaning and maintenance practices, using:


Sustainable cleaning chemicals that meet the Green Seal GS-37 standard.
Use of micro-fiber wipes, dust cloths and dust mops in place of paper wipes (and where paper products are used, use of products that contain at least 30% recycled content and which are recyclable).
Floor finishes and strippers, are VOC free, durable, slip resistant and free of zinc (metal-free) and meet the GS-40 and/or CCD-147.
Carpet Care Products and equipment for low moisture (encapsulation) that met the requirements of GS-37 and/or CCD-148.
Proper training of maintenance personnel in the recycling programs, hazards, use maintenance and disposal of cleaning chemicals, dispensing equipment and packaging.
Hand soaps that do not contain antimicrobial agents, except where required by health codes.
We use cleaning equipment that reduces impacts on IAQ.
Green Certified Equipment
Vacuum cleaners certified by the Carpet and Rug Institute "Green Label" Testing Program operate with a sound level of less than 70dBA.
Carpet extraction equipment certified by the Carpet and Rug Institute's "Seal of Approval" program, which tests the effectiveness of extractors in three categories: soil removal, water removal and texture retention.
Floor maintenance equipment, including floor buffers and burnishers that operate with a sound level of less than 70dBA.
Propane-powered floor equipment, which has high-efficiency; low-emissions engines with catalytic converters and mufflers that meet the California Air Resources Board or EPA standards for the specific engine size and operate with a sound level of less than 90dBA.
Battery-powered equipment that is equipped with environmentally safe gel batteries.
We provide a copy of a low environmental impact cleaning policy that meets these criteria. As a company we will provide documentation that this policy has been followed, showing:
Specifications for chemicals used.
Dates and activities associated with cleaning maintenance.
Dates and outline of cleaning worker training.
Green Cleaning Benefits
Improved indoor air quality. A healthier indoor environment will lead to increased productivity and reduced absenteeism.
Using green products and practices, such as use of less hazardous cleaning chemicals, proper chemical storage, use and disposal, lessens the likelihood of accidents, fires, spills and explosions.
Financial benefits. Green Cleaning focuses on keeping the dirt and soil out, and preventive maintenance. This leads to lower cleaning and maintenance costs.
Happier building occupants. Employees like to work in buildings where the owners and managers show concern for their health and well-being.
Increased building value. By implementing green features such as energy efficient lighting and non-toxic cleaners, you can increase your building's value.
Don't wait! Contact us today to see how Green Cleaning can benefit your business.
Call us at (813) 403-8949 so we can setup an appointment and discuss your green cleaning needs.